Chairman's Message
Ghanim Ali Ghanim Al-Mohanadi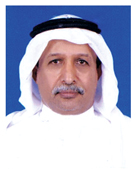 Inspired by our culture and Qatari Society, believing in trade that has been the core assets of any civilization development , I turned from Public state services to private business 27 years ago , continuing our grandfathers hard work toward serving our country that gave us much of our live
We are grown in an area where Agriculture and livestock wealth are the base of our live so, I decided to enter into this career armed with my experience and our government support
1988, was my private business start with 12 trucks transportation fleet company , serving animal feed and local industry business, soon realized the importance of Animal feed as an imminent requirement to all around us, in 1992 I found myself actively involved in Grains and animal feed trade , supplying farm, factories and attending government tenders
1995 I - with a reputable Qatari businessman - established and managed livestock, slaughter house and Meat Company, for 13 years we were the main suppliers of meat to Qatar market
2008, was the year that witnessed new era of my business where I integrated my accumulated experience in transportation, animal feed industry and livestock & meat business, joined by my sharers at this stage and formed Al-Sanabel Al-Qataria company that considered as the start of building up our business foundation with a modern business philosophy and strategy.
In short time of business live, Al-Sanabel Al-Qataria has grown rapidly, become one of the major players in animal feed and grain traders , expanded its business locally with two new subsidiaries –Dolphin contracting and Al-Sanabel Landscape, and expanded Geographically by establishing the first joint venture outside Qatar, Al-Sanabel Cattle & Fodders in United Arab Emirates
Our vision is to be the leaders in Qatar Market and to be presented in the five Gulf countries, it will not be long to make it true.
I sincerely hope that I have served my community and my country with little of that our country gave and leaving future to our new generation.